Audemars Piguet's Royal Oak collectie viert haar 40e verjaardag, om dit te vieren heeft het merk samen met Carolina Bucci een jubileum editie gemaakt van het vrouwenhorloge. Genaamd 'The Royal Oak Frosted Gold', heeft het horloge een bijzondere uitstraling gekregen door de invloed van juwelenontwerpster Carolina Bucci.
Het horloge is gemaakt van een 18kt wit- of roségouden kast in de makten 37mm of 33mm. Op de 37mm versie zit een saffierkristallen achterkant. Beide versies zijn water resistent tot 50 meter diepte.  De grotere versie bevat een 'Swiss automatic Audemars-Piguet kaliber 3120' met 40 juwelen en een reservebatterij van 60 uur. De kleinere versie bevat een 'Swiss quartz caliber 2713' compleet met 7 juwelen.
Maar het specialiteit van deze adembenemende horloges is het ontwerp van het uiterlijk. De band voelt aan als die van een fijn juweel door de bewerking van het oppervlak met een speciale 'Florentine' techniek.
"The Royal Oak is one of the most iconic watch designs in existence. That is quite daunting when you are considering how to refresh something aesthetically. I wanted to give the watch a dynamic quality that captures the attention of those who see it. When I think about my jewellery, I think about both the wearer AND those who will see it being worn. By treating the finish of the gold with a Florentine effect, you have added nothing to the watch, nor subtracted anything – just altered the surface of the gold to make it sparkle when catching the light. In doing so, the watch becomes something entirely fresh and confident" zegt Bucci.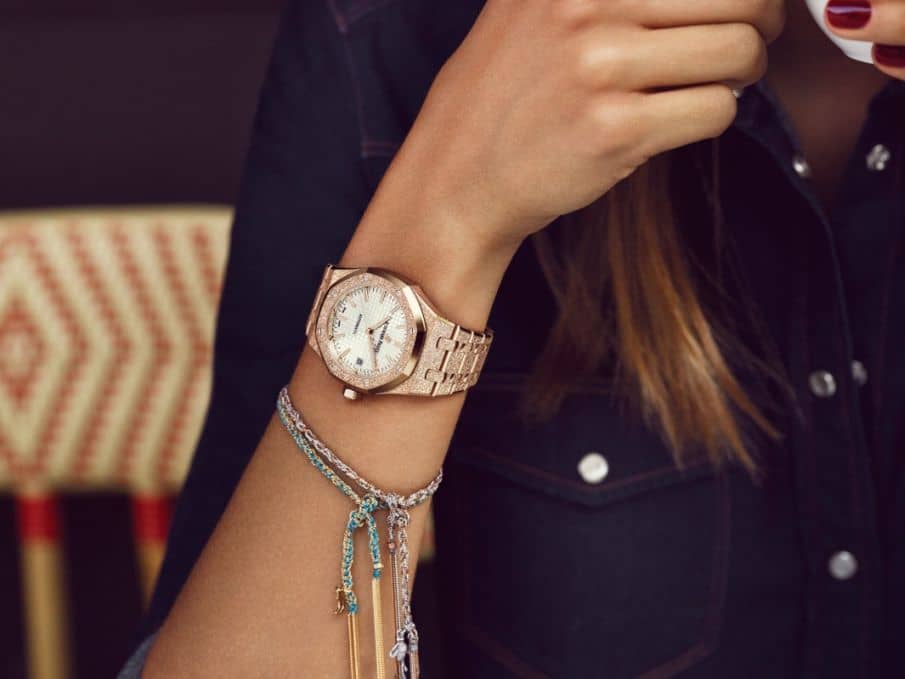 Lees ook: Hermes Cape Cod Viert 25e Verjaardag met Nieuwe Exemplaren